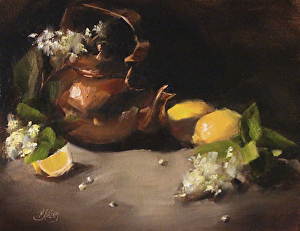 Copper Teapot and Lemons
oil on linen
11" x 14"
Getting home from Georgetown Art in the Square Monday afternoon, I looked at my truck - packed to the brim with festival stuff and waiting to be unloaded. Then I walked into my studio, which looked like a tornado hit it and my kitty had coughed up a hairball in the middle of the carpet. I felt exhausted, so I decided "I'll think about that tomorrow." (I had to work that last quote in - I just finished reading "Gone with the Wind" last night.) Well, anyway, I haven't been able to do any painting all week, but my studio is now reorganized and looking fantastic. I also received a call from my gallery,
Stinger Studio in Georgetown
, with good news of several sales. Best of all, a new shipment of canvases just arrived! Painting day - Oh, happy day!
I love to share my art and inspiration. Click
HERE
to sign up for my email newsletter and receive a free gift of postcards.